I've always felt like geography was the weakest subject in our homeschooling. I've tried various ways of incorporating map work into our school days, but everything I tried was hated. Finally, I just hung a world map from the bulletin board beside the chair I sit in to read aloud, and when I think of it I'll point out the location of the story we're reading. When Let's Go Geography came available for review, I decided it looked like something we could really use. Because it was described as being good for approximately grades K-4, I decided to have Mr. Sweetie and Mr. Imagination use it. No one older wanted to, anyway.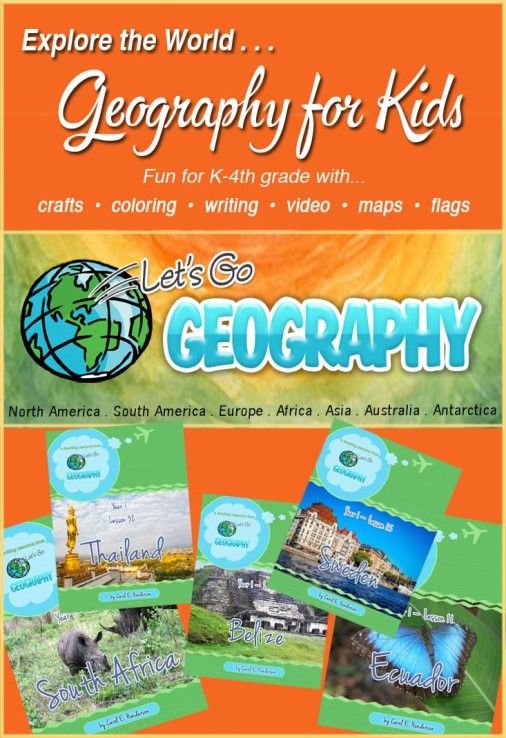 Each week, we get to study a different country. The first two weeks were actually regions of the United States, first the Northeastern States, and then Hawaii. After that, we spent a few days with Canada, and then Haiti and Nicaragua. We're going to Belize on our next adventure. My little boys are loving this course! Especially, Mr. Imagination cheers when I say it's time for geography. A few days ago, we were reading a biography in the evening and it mentioned that the person had gone to Hawaii. I didn't even know Mr. Imagination was listening, but he got quite excited and pointed to Hawaii on the world map, telling everyone that we had studied it! That was fun to see. And just look at the list of places we get to "go" in the future! (Do you see what the last one for Year 1 is?)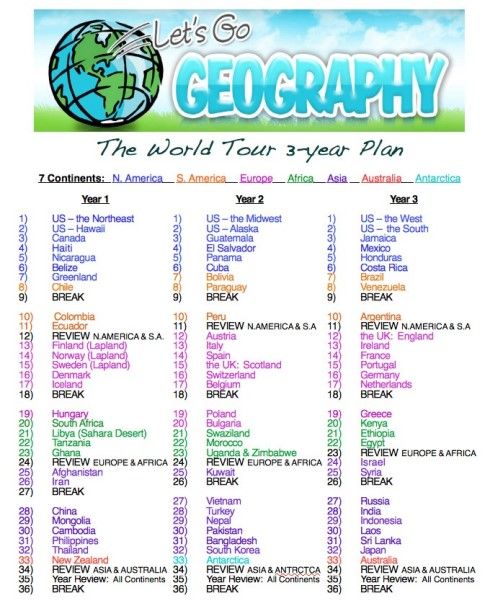 Each lesson has a lot of variety. It's set up so you can spend five days per lesson, so one section of the lesson each day of the week. We ended up doing each lesson in only 2-3 days, and skipping a few days each week. It's just hard to fit something like that in every single day. We did the map work and colored, cut out and glued the flags one day. Another day, we listened to the national anthem from the country and watched the YouTube videos linked to in the lesson, and then each boy dictated to me what he remembered about the country and I wrote it on a notebooking page for him. Sometime later, either that day or another day, they each colored a picture of something from the country. Little Miss always had to have a coloring page, too, and she usually wanted a map to scribble on as well! There are crafts given for each lesson, but we never did any of them. They would have been fun, but we didn't have the needed supplies on hand. It's not that they are hard to find, but just things that we don't keep, such as white and red plastic disposable cups to make into a lighthouse, or paper lunch bags to make into a puppet. I keep hoping we'll come across a craft that we have the supplies for.
Built into the year's study of geography are three review lessons, one after each two continents have been studied. This review lesson looks like fun! I know my boys are going to love matching flags with the correct countries, and we'll spend some time learning about latitude and longitude as part of the first review lesson. There are also some pages to match pictures with the country in which they were taken.
Here is Mr. Sweetie with some of his pages.
And this is Mr. Imagination, with some of his pages!
We're saving all our pages, and at the end of the year I'm planning to have someone drill holes in them so I can sew the books together. Then, each of the boys will have his own book of world geography. When years 2 and 3 are available, I will probably buy them; this is a program we have really enjoyed. All you need to use it is an internet connection and a printer! I am trying to get a few books from the library with more pictures of the countries we're studying, but our local libraries are pretty small. This is when we're glad for YouTube and someone who has taken the time to find links for us!